Posted by Muse Beauty on Jul 2nd 2015
Follow our step by step for perfecting the complexion with ESUM makeup brushes. In this tutorial we used a combination of cream, liquid and powder makeup mediums. The new line of ESUM black and white, synthetic makeup brushes are made with varying textures of taklon fibers. Smooth textured, taklon brushes seamlessly apply cream and liquid mediums and softly textured, taklon brushes work ideally with powder mediums. This versatile set of brushes is vegan friendly and can be used for a diverse array of applications.
---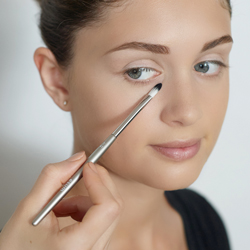 STEP 1
Apply concealer with the ESUM T41 Concealer Brush. Working off of a makeup palette apply concealer to the tip of the brush and apply to the under eye area. Start with a small amount of product and build coverage as needed. For dark under eye circles we recommend KETT Color Correctors. Concealer should generally be one to two shade lighter than the skin tone.
---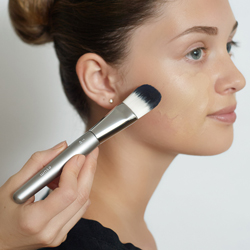 STEP 2
Apply liquid foundation with the ESUM T45 Large Foundation Brush. Work in one section of the face at a time, pat and blend makeup on for an even application using the flat side of the filbert shaped brush. We used > in shade O3. For a sheer application mix Hydro Foundation with a moisturizer for the a sheer, dewey finish.
---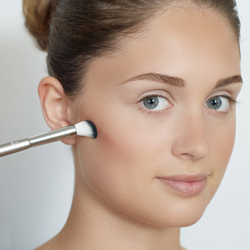 STEP 3
Apply contour color beneath the cheek bone with the ESUM T38 Medium Round Flat Angle Brush (also great for shadow primer to eyeshadow). Apply contour color to the flat head of the brush and stipple and blend onto skin. Contour color should generally be two shades deeper than the skin tone. For contouring the face we recommend the KETT FIXX CREAM – Hi-light & Contour Palette.
---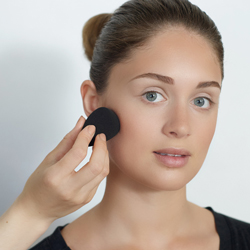 STEP 4
Seamlessly blend contour with the ESUM Pro Finishing Sponge. Use the rounded end to buff and blend contour shade from the apple of the cheek, back towards the hair line for a natural finish.
---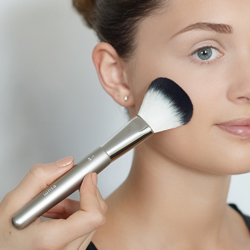 STEP 5
Apply setting powder with the ESUM T49 Large Powder Brush. Press powder on the face with the scalloped side of the brush. Follow with a large puff to compress the layers for a natural finish.
---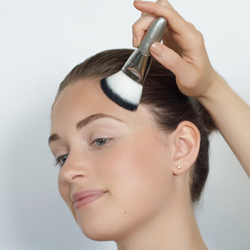 STEP 6
Bronze along the hairline, cheek bones and jawline to add dimension and warmth to the face. Apply bronzer to the flat end of the T59 Large Fan Diffuser and quickly wisp over the face for a sheer application.
---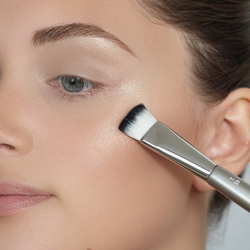 STEP 7
Add a finishing touch with KETT Hi-Light; a soft, shimmering cream highlighter. Using the T39 Small Square Diffuser Brush apply cream highlighter to the flat end of the brush and stipple along the high point of the cheek bone, bridge of nose, under the brow and above the bow of the lip.
---
Makeup Artist: Alphonse Wiebelt
Photography by Anthony Rogers of Neo Visualism Photography | www.neovisualismphoto.com
---