Posted by Muse Beauty on Jul 7th 2015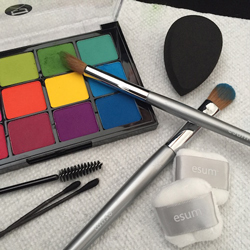 Cleaning makeup brushes thoroughly between makeup services is important to maintain a sanitary makeup application. To clean makeup brushes we recommend using Japonesque Brush Cleanser. This brush cleanser spray thoroughly and gently cleans sable, squirrel, goat and all other fine haired makeup brushes. This unique cleaner dissolves all mediums of makeup products including powder, liquid, wax and even adhesives while conditioning and disinfecting brush hair. Follow these tips to maintain the lifetime of your makeup brushes.
---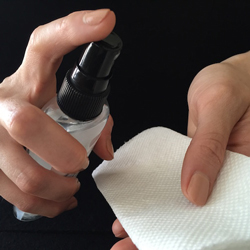 STEP 1
In between makeup applications always throughly clean brushes with a sanitizing cleansing spray. At the end of the day brushes should always be washed throughly. Read more for HOW TO WASH MAKEUP BRUSHES.

First spray a paper towel with the brush cleanser 1-2 times. Do not spray the brush directly.
---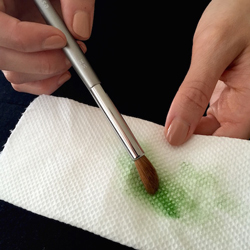 STEP 2
Wipe the brush head over the paper towel. Repeat spraying the paper towel and wiping the brush head until clean.
---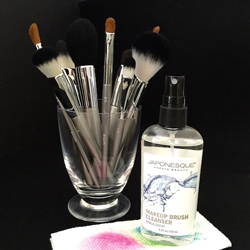 STEP 3
Repeat steps above until all brushes are throughly clean and all cosmetic products have been removed. Allow brushes to naturally air dry post spray cleaning. This will only take a few seconds.
---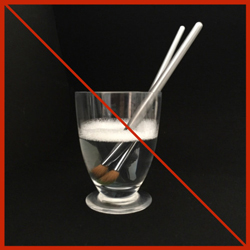 Do not fully submerge makeup brushes in soapy water or brush cleaning solution. Cleaning solvents can dissolve the adhesive that binds brush hair in place causing hair to fall out over time.
---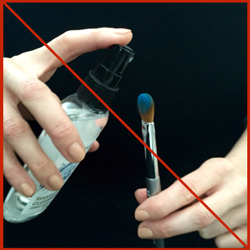 Do not directly spray the brush head with cleaning solution. This will oversaturate the brush hair and may cause them to loosen. Oversaturating the brush head will also make the brush unsuitable to use if cleanser build ups and remains on the brush, as the residue can be then transferred onto eye shadow or the skin. If a buildup occurs, shampoo brush to restore.