Posted by Muse Beauty on May 28th 2015
Keep professional makeup sponges clean in-between applications with these easy steps. To cleanse reusable cosmetic sponges dampen with warm water and use a solid or liquid soap cleanser. We recommend the JAPONESQUE Solid Brush Cleanser for makeup brushes and sponges. Gently massage the cleanser into the sponge with fingertips to breakdown makeup and then rinse. Repeat if necessary until all traces of makeup are removed. Gently blot out excess water with a paper towel then lay out to air dry. After cleansing, sponges can be quickly disinfected using Cosmetology Complete Care.
---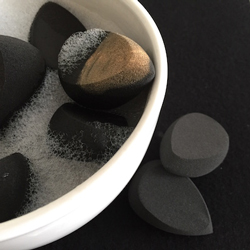 Step 1
For waterproof makeup, pre-soak sponges in soapy water. The ESUM Pro Finishing Sponges are pictured in this article.
---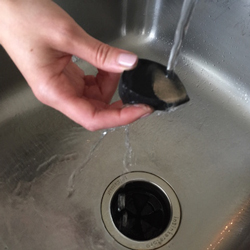 Step 2
Dampen dirty sponges before washing.
---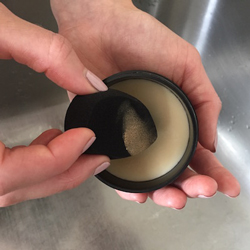 Step 3
Wipe the damp sponge over a solid cleanser.
---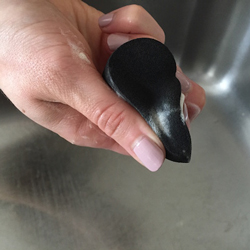 Step 4
Gently massage cleanser into the sponge to breakdown product.
---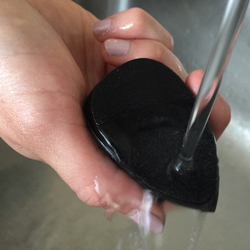 Step 5
Rinse all remaining residue and cleanser from sponge.
---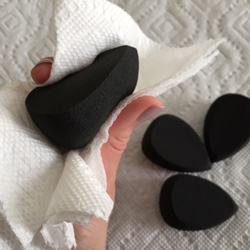 Step 6
Blot excess water with paper towel.
---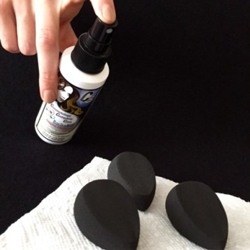 Step 7
Spray 1 to 2 light mists of C3 Sanitizer approximately 1 to 2 feet away and let air dry.
---
Learn how to wash makeup brushes in our article HOW TO WASH MAKEUP BRUSHES.