Posted by Muse Beauty on Jan 26th 2015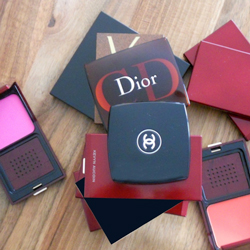 We never have enough, one is too brown, the other too bright and then we find the one that is just right – for that moment. We scour the industry tradeshows, cosmetic counters and drugstores looking for that one shade that got away. We acquire the holy grail hue all to realize that we already have it – just by another brand in a closed compact. The woes of a makeup artist are tough, expensive and heavy with all the compacts of blush and shadow we carry in our makeup kit – but we love it!

So to streamline, remove the dead-weight of compacts and mirrors, make room in our makeup kit, get organized and see what we have at-a-glance – we "DEPOT." Some makeup is sold in "clamshells" or "refills" – just the blush or shadow pressed into the pan, then sold inside a disposable plastic sleeve. However, most compact makeup is glued into a compact, requiring a few easy steps to remove before depotting and organizing into a professional palette.
---

There are professional brands that offer refillable compacts and magnetic palettes in a variety of sizes, colors and materials. Some have pre-sized cut-outs inside the compacts for specific pans of color and some are open wells for versatility. Our MUSE BEAUTY.PRO pick is the Z PALETTE created by Emmy Award Makeup Artist – Zena Shteysel. They are lightweight, inexpensive and customizable to house any size and shape makeup pan.
Depotting is easy and fast, requiring a few simple steps. This techniques works best with powder shadow or blush compacts. Do not depot cream or gel compact makeup in an oven as it will melt the makeup and change the formula.
WHAT YOU NEED
10 Minutes, Oven, Oven Mitt, Baking Sheet, Foil, Small Makeup Spatula, Compacts, Z Palette
PREP
Depot in a well ventilated space
Remove plastic protective shields, sponge applicators and brushes from compacts
Place oven rack to middle position
Preheat oven to 350°
Line baking sheet with foil
---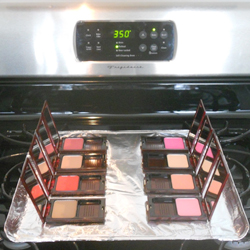 Step 1
Collect your powder compacts. Do not attempt this method with cream or gel mediums. Open each compact and set onto baking sheet – place sheet in oven for about 7 minutes.
---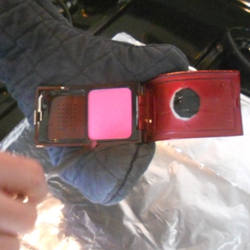 Step 2
Remove from oven. You will see that the compacts have begun to melt and the mirrors often come loose. Remove mirror before you begin to depot the pan. Hold compact with oven mitt and insert spatula between metal pan and compact.
---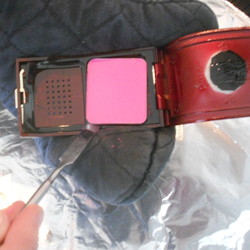 Step 3
Gently pry metal pan around the edge until free. If pan does not pry out easily, place back in oven for three minutes and repeat STEP 1.

Depotting is easy, but there is the occasional impatient MUA who will crack the makeup in the pan upon removal. If the pan does not pry out easily, the glue underneath has not melted enough – repeat STEP 1. If your makeup cracks in the pan, set aside the depotted pan to cool. Spray with alcohol and place a piece of tissue over the pan. Press gently yet firmly with your thumb to re-set makeup into the pan.

Be sure to continually keep an eye on your compacts as oven temperatures vary so that they do not over cook.

If glue is left under the pan, remove by rubbing off with Brush Cleaner.
---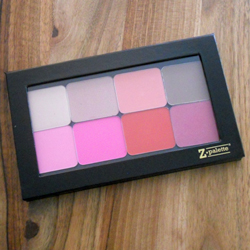 Step 4
Organize your depotted makeup into your Z Palette. The bottom inside of the Z Palette is magnetic and should hold the pans. If the pan is made out of a non-magnetic metal, apply a round metal sticker that comes with the Z Palette under the pan – PEEL, STICK, SET & GO!