Posted by Muse Beauty on Jul 9th 2015
In part two of our makeup tutorial see how to add finishing makeup details with ESUM brushes after perfecting the complexion. Softly textured, synthetic brushes for eye apply powder with ease. Smooth textured synthetic brushes for face and lip apply creams and glosses precisely. Perfect for makeup artists and personal use, the black and white collection is a versatile vegan option for an wide range of makeup applications.
---
Step 1
Apply a neutral base shadow with the flat end ESUM T38 Medium Round Flat Angle Brush by pressing powder onto the eye lid. Use a color that is a shade lighter than the skin tone. We used the VISEART Eyeshadow Palette: 01 Neutral Matte.
---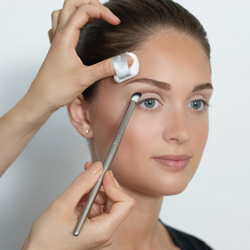 Step 2
While guarding the skin with the ESUM Pro Pinky Puff apply a matte neutral contour color with the ESUM T37 Small Round Flat Angle Brush to the crease of the eye and blend upwards. The flat rounded end of the brush will hug the eye contour and apply a soft application.
---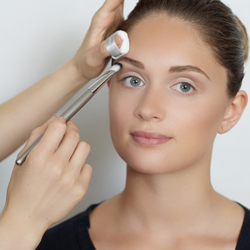 Step 3
Blend shadow using a back and forth motion with the ESUM T39 Small Square Diffuser Brush.
---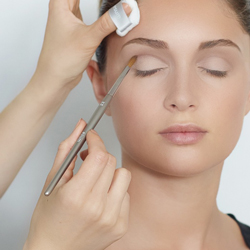 Step 4
Using the ESUM W36 Small Round Angle Eye Contour Brush easily apply a 3D contour for greater definition. Ideal for a cut-crease or working with smaller eye areas, wedge the angled tip into the crease of the eye area and gently glide the brush head back and forth using a deep matte shadow. This elongated, angled tip brush, made from sable hair, offers the ultimate whip and snap for a controlled application.
---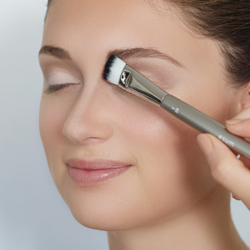 Step 5
Apply contour to the sides of the nose with the flat end of the ESUM T39 Small Square Diffuser Brush. Blend as you apply with a light back and forth motion.
---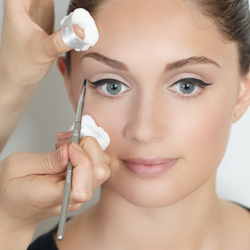 Step 6
Using the ESUM T03 Precision Liner Makeup Brush with a liquid liner apply a bold wing liner. The precision tip of the T03 allows for a crisp wing.
---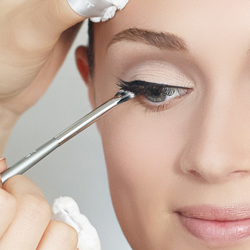 Step 7
Apply mascara with the ESUM T11 Mascara Fan Brush. Apply to the outer edge of the T11 makeup brush and work through lashes starting at the base of the lash.
---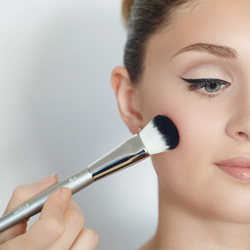 Step 8
Add a rosy glow to cheeks with the ESUM T47 Cream Foundation Brush by stippling and blending cream blush. We used KETT Fixx Creme Blush in Daiquiri.
---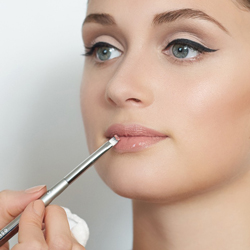 Step 9
Use the ESUM T20 Square Retractable Lip Brush to blend lip liner and apply lipstick or lipgloss. We used the VISEART Lip Palette: 01 MUSE Nudes. The ESUM T20 is perfect for on the go touch ups with it's retractable brush handle.
---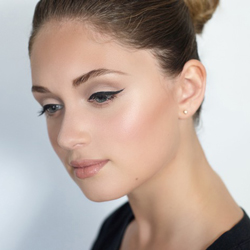 The finished look after complexion perfection and detailing. See the full set of new ESUM brushes.
---
Makeup Artist: Alphonse Wiebelt
Photography by Anthony Rogers of Neo Visualism Photography | www.neovisualismphoto.com