Posted by Muse Beauty on Aug 8th 2014
ESUM Pinky Puffs are an essential tool for any professional makeup application. Ensure the comfort of your clients and prevent makeup from smudging by using puffs to guard the face. Distinctive and unique in shape these square puffs, with softly rounded corners, fit all contours of the face. Made from a soft 100% micro-fiber cotton velour puffs can be used without leaving a detected imprint, even under HD. The wide satin ribbon attached to the back provides a secure fit to the finger allowing the artist to anchor the puffs as needed.
ESUM Pinky Puffs can be washed for re-use, making them sanitary, environmentally friendly and economical. To clean Pinky Puffs we recommend a fragrance free detergent. Puffs are hand or machine washable. For ease, try using a small laundry bag to keep puffs organized when machine washing.
---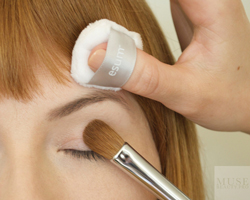 With a Pinky Puff placed on the thumb the brow can be easily raised with light pressure to apply a base eyeshadow. Here we are using the ESUM W23 makeup brush for a light application of the eyeshadow.
---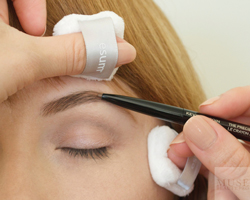 When using a brow pencil steady your hand with the Pinky Puff and gently lift the brow as needed to enhance and define.
---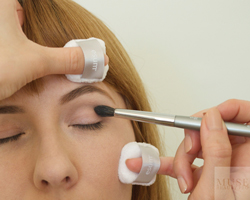 Use the Pinky Puff on the little finger to steady your hand on the face when applying shadow with a contour eyeshadow brush. Here we are using the ESUM S33, a soft haired brush, ideal for creating a subtle to dramatic eyeshadow application that is also gentle on the eye.
---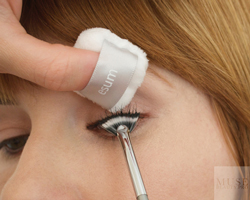 When applying mascara with a small fan brush guard the lid with the edge of the Pinky Puff. Small enough to follow the contours of the eye, the Pinky Puff ensures eyeshadow will be protected during mascara applications.
---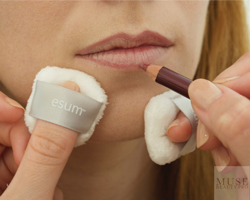 Use the ESUM Pinky Puff to help steady your hand when applying lip liner or lipstick. The Pinky Puff can be used to apply a light pressure on the surrounding area to help in the lipstick application. Puffs help to keep foundation looking perfect and preventing makeup from smudging.
---
To set makeup try using an ESUM Pro Finishing Puff. First apply setting powder and then wrap the Finishing Puff around one to two fingers and press and roll. The soft corners of the puff fit perfectly around the nose and eyes allowing for all makeup to be set in place for the best longevity.
---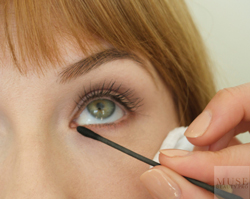 To touch up makeup try MICELLAR LOTION applied to the end of a ESUM Detailing Bud to remove makeup. Detailing Buds are ideal for makeup touch ups that require precision.