Posted by Muse Beauty on May 22nd 2015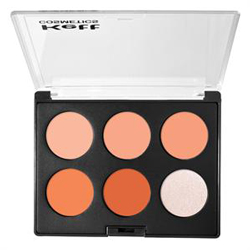 Find the perfect concealer with Color Correctors by KETT Cosmetics at MUSE BEAUTY.PRO. Now available by popular demand, KETT Cosmetics has expanded their range of shades with an orange undertone available in the easy to carry and compact KETT Fixx Creme Corrector & Hi-Light Palette. Contains all five concealers for the fairest to deepest of skin tones as well as an illuminating cream hi-lighter.

KETT Fixx Cremes are a waterproof plant wax based medium. This cream medium is diverse in application and can be used for everything from foundation, blush, lip color, color corrector, high light & contour and concealer. Fixx Creme keeps skin hydrated and is enriched with vitamins A, C, and E, licorice root extract and jojoba. This professional makeup is ideal not only for on set and bridal makeup but also for personal use. Being highly pigmented a little bit of product can go a long way and can be used for a sheer to full coverage makeup application. For makeup kits Fixx Cremes are available in slimline six well palettes, which can also be custom created, or in compacts for personal use.
---
HOW COLOR CORRECTORS WORK:
A foundation or lightweight concealer doesn't always work to neutralize blue toned discoloration. KETT Color Correctors have an orange undertone and effectively neutralize blue discoloration under the eyes or face with flexible coverage. Created with the laws of color theory, orange is opposite the color blue on the color wheel and neutralizes the blue hue. For more information on color correcting see our article HOW TO CONCEAL DARK UNDER EYE CIRCLES.

When using Fixx Creme we recommend starting with a small amount of product, as a little will go a long way, and build to the desired coverage. Prep under eyes with a lightweight eye cream and apply concealer to the discolored area using the ESUM T41 Concealer Brush. Blend and diffuse around the perimeter with a finishing sponge and set with KETT Sett Invisible Powder using a small makeup brush.
---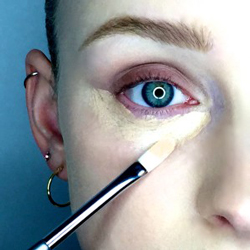 The KETT Color Corrector in Light-Medium is applied with a small taklon brush, ESUM T41 for percision application.
---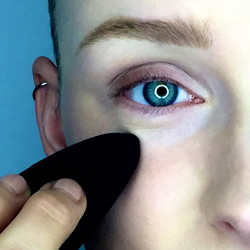 The perimeter of the corrector is then blended using the ESUM Finishing Sponge and then set with invisible powder.
---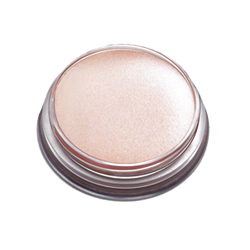 KETT FIXX CREME HI-LIGHT:
Enhance face, eyes or lips with a glowing champagne kiss using KETT Fixx Creme Hi-Light in compact or refill pan. Illuminate and brighten the skin with this creamy and easily blended highlighter. Also available in refill pan or compact. Try these makeup tips to brighten makeup:
Mix in the KETT Fixx Creme Hi-Light with a Fixx Creme foundation for an added dewy glow to makeup.
Apply to eyes, lips or cheeks to brighten and highlight features.
Mix into a matte lipstick with a palette and spatula to add soft shimmer to lipstick.
---
HOW TO APPLY FIXX CREME:
---
PRODUCTS USED:
Prime skin with EMBRYOLISSE Lait Crème Concentré using the ESUM T45 Medium Face Brush.
Conceal with Fixx Creme Color Corrector Light to the under eye area with the ESUM T41 Concealer Brush.
Apply Fixx CremeFoundation Ruby 1 with the ESUM T45 Medium Face Brush.
Buff and stipple Fixx Creme Blush Bermuda using the ESUM T47 Cream Foundation Brush on cheeks.
Set with KETT Sett Powder using the ESUM Pro Finishing Puff.
Finish with Fixx Creme Blush Bermuda for lips using the ESUM W19 Filbert Lip Brush.