Posted by Celeste Misa on Aug 30th 2021
Whether you're heading back to school, seeking on the go beauty, or looking to simplify your makeup routine or makeup kit, we've rounded up the best of multi-tasking, travel-friendly makeup you need to know about for a convenient makeup experience with maximum results.
---
KETT COSMETICS FIXX CREME
For back to school makeup, on the go beauty, and even in a professional makeup setting, time is of the essence. Nothing says multi-purpose beauty more than the vegan and cruelty-free Kett Cosmetics Fixx Creme Makeup. These versatile creams are a favorite within the makeup artist community, blending beautifully on the skin and more importantly, triple up as a quick creme eyeshadow look that lasts and an easy creme lip color! This lightweight, waterproof creme makeup provides a natural looking finish to the skin, enriched with vitamins A, C and E. Opt for the Fixx Creme Blush Palette for the ultimate cheek, eye and lip palette featuring a variety of six warm and cool shades from pinks, bronzes, and plums. Reach for palettes that are multifunctional to save you time both deciding and completing your look, or if you're looking to keep multitasking products in an arms reach in your kit.
Pro Tip: This multitasking creme makes for a great waterproof primer!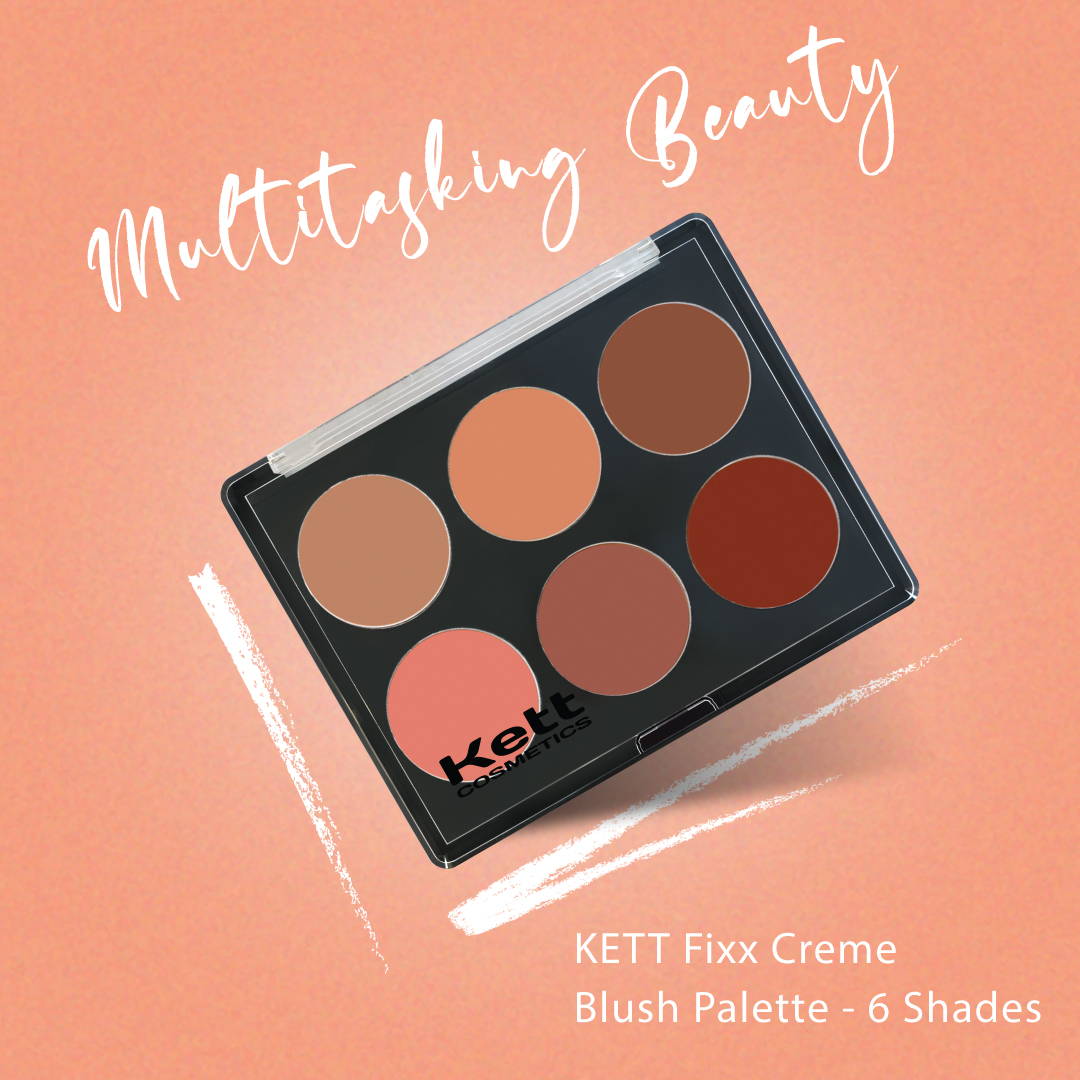 ---
VISEART NEUTRAL MATTES EYESHADOW PALETTE
For eyes and brows, keeping your look simple with the option to make it more dramatic leads us to recommend none other than the classic Viseart Neutral Mattes Eyeshadow Palette. Known for their iconic matte formula that's smooth, long-lasting and true to color, these twelve essential matte shades are all you need for your neutral eyeshadow needs, brow powder, and even eyeliner!
Pro Tip: To define your eyes, create a waterproof eyeliner with any of these shades by taking one drop of the ESUM Pro Mixing Medium onto the ESUM T05 Square Liner Brush, and tap on your desired shade. This transforming liquid will intensify and waterproof the pigment for long-lasting results. Don't forget brows! Eyebrows are just as important to define as they help to frame your face. Choose your brow shade or mix between shades and lightly fill in with the soft and precise ESUM B15 Angle Brow Brush. This palette is also magnetic, so feel free to rearrange as you like! It's for great reason that this essential palette is considered a must have for makeup artists worldwide.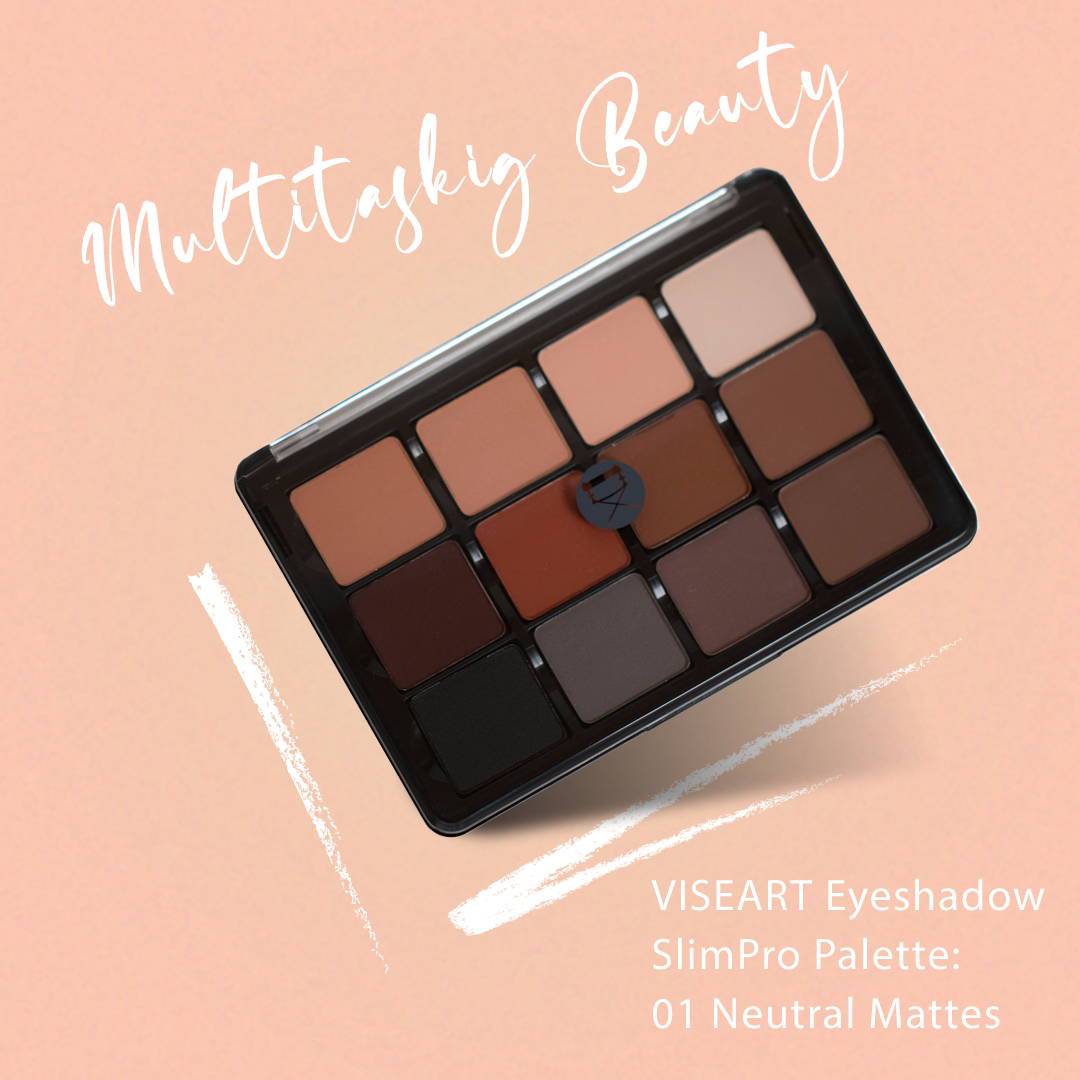 ---
ESUM T59 FAN DIFFUSER BRUSH
Let's talk all about face! Overwhelmed by makeup brushes? Simplify your routine with a multi-tasking brush that works for all steps of your base and all mediums from creams to powders. Travel and beauty bag friendly, the ESUM T59 Large Fan Diffuser Brush is your one-stop-shop for applying your foundation, tinted moisturizer, blush, bronzer, and highlighter! Here's why: Made with smooth synthetic bristles, this artist-designed brush not only allows you to work with all makeup textures but the unique square edge shape is flexible, letting you quickly apply your base and define cheeks in no time.
Pro Tip: Keeping versatile makeup brushes in your beauty bag or makeup kit allows you to have more options while carrying less! Looking for this same convenience in a brush but for around the eyes, or more precision? Try the ESUM T37 or ESUM T38.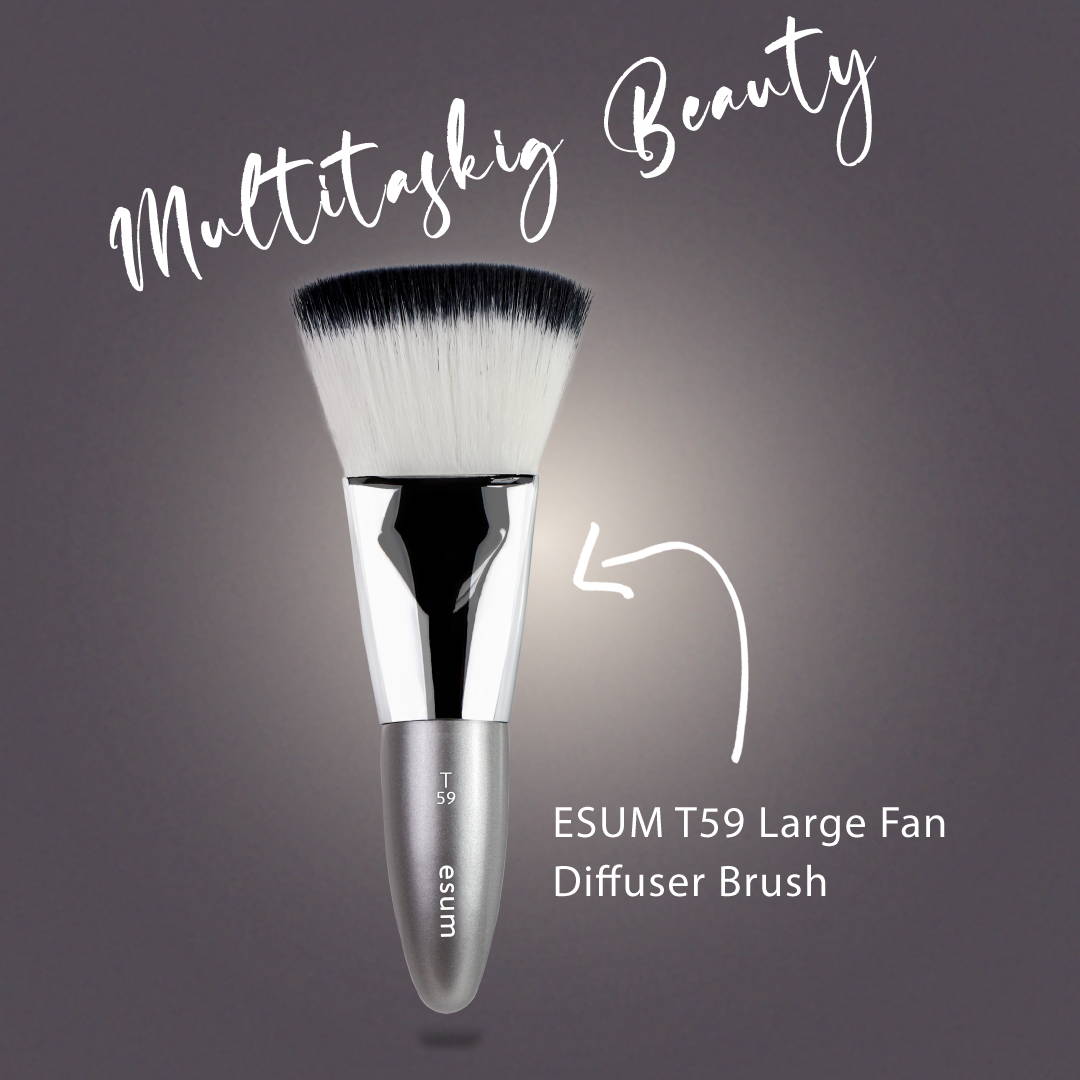 ---
VISEART ÉTENDU SOLEIL LA PLAGE SET, VISEART ÉTENDU PARIS LOVE LETTER SET, VISEART SPRITZ EDIT EYE SET
For a complete eye look that involves a variety of eyeshadows, brushes, to eyeliner and eye primer, we've curated a few travel-friendly eyeshadow sets to help simplify your makeup routine with the tools to bring your look to life! First up, we have the Viseart Étendu Soleil La Plage Set. This four piece set features twelve neutral and glistening pops of shimmer in the Soleil La Plage Palette, two essential ESUM eye brushes to blend, and your pick of any ESUM Dual Eye Pencil!
Pro Tip: ESUM brushes are intentionally designed for optimal comfort and efficiency for makeup artists, making your application that much smoother!
If you love neutral shades but experiment with a pop of color from golds, yellows to blue, this set has your name written all over it. Love earthy mattes, peaches, and beiges? Opt for the Viseart Étendu Paris Love Letter Set. Also featuring two of ESUM's super-soft eye brushes and your pick of any eye pencil, the Paris Love Letter palette consists of twelve satin metallics and mattes, with a fresh pop of green!
Last but definitely not least, the Spritz Edit Eye Set features twelve warm apricots, caramels and raspberries, an eye primer and synthetic brush. All of these eyeshadow palettes travel easily with their smaller size including a mirror and mix of finishes for a variety of looks.
---
SKINDINAVIA THE FINISHING SPRAY 0.66OZ
Don't forget to set it! With long days ahead whether you're out and about on an adventure or back to school, the award-winning The Finishing Spray by Skindinavia sets makeup for up to 16 hours and is a no-skip step to ensure your makeup look lasts through no matter what your day brings. Makeup artists and social media influencers have been using and praising Skindinavia products for over 15 years! Small enough for your backpack, clutch or carry-on, the TSA-approved 0.66oz size brings maximum results of fresh makeup with less creasing, fading, and meltdown.
Pro Tip: This makes for the perfect choice for the traveling makeup artist on the go!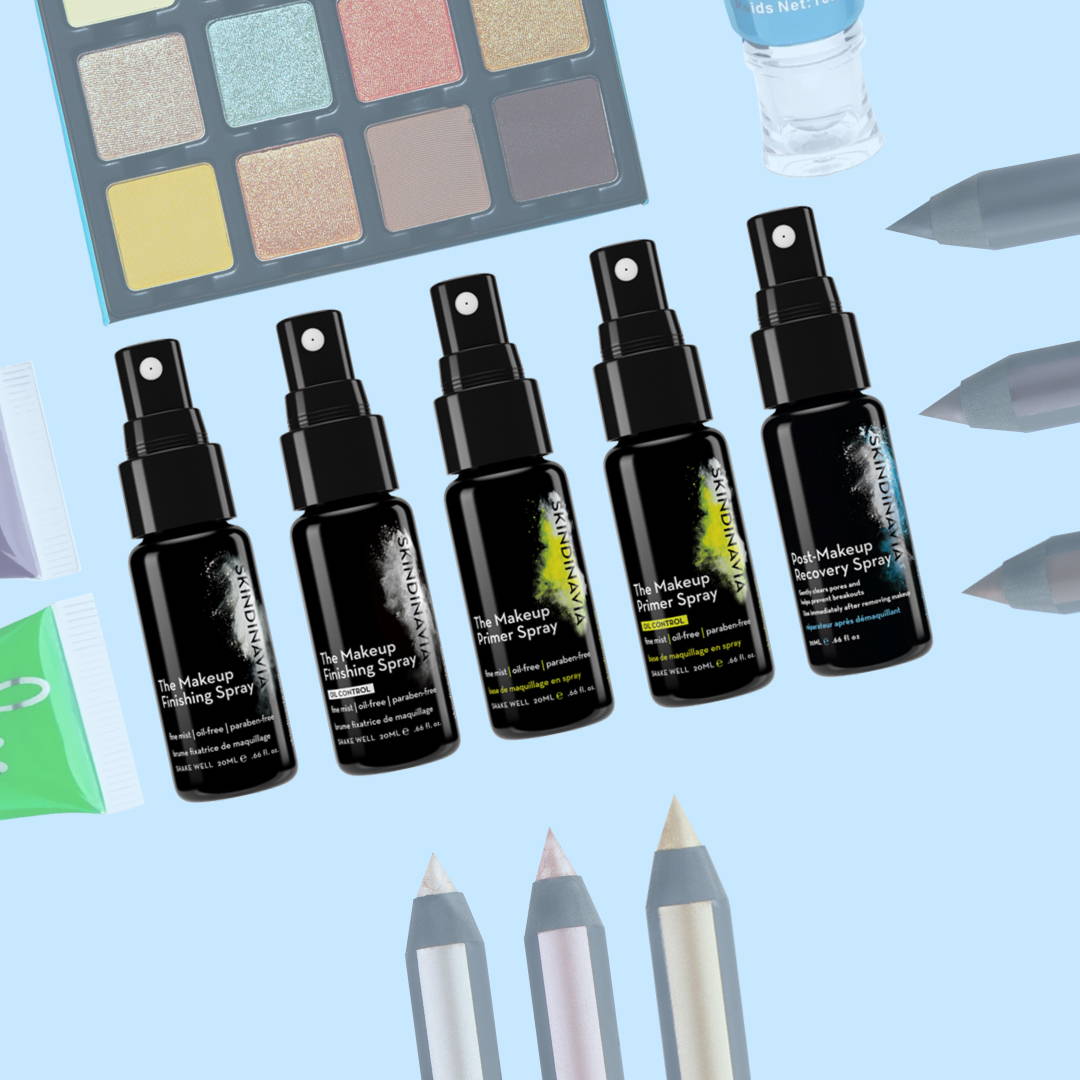 ---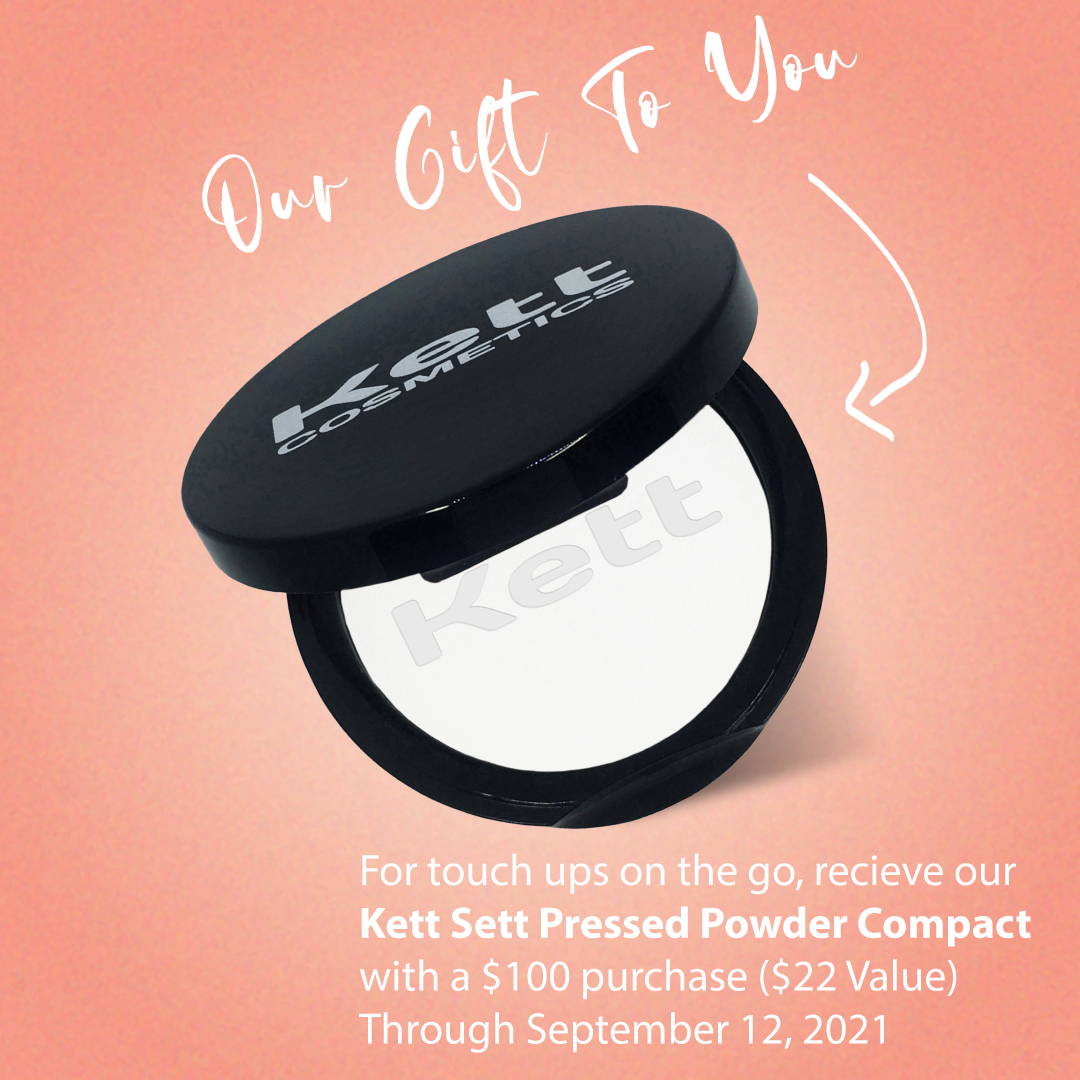 OUR GIFT TO YOU
For touch ups on the go, receive a free Kett Cosmetics Sett Powder with a $100 purchase ($22 VALUE) through September 12, 2021! Shop the best of multi-tasking beauty to simplify your beauty routine with versatile products you can enjoy at home and on the go without ever sacrificing results.